These Are a Few of My Favourite Things…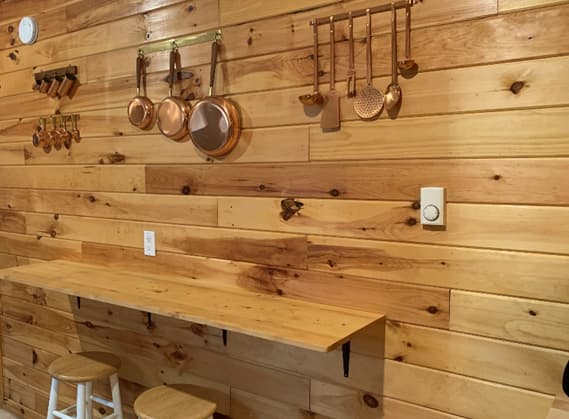 It's been just over a year since we took over the resort. Every cottage has now been updated in some way shape or form with a lot of this work having occurred over this past winter. We've tackled repainting many of the cottages, updated a fair amount of the furniture (interior and exterior) or at least moved some around for improved flow/usability, refreshed the décor (artwork, some of the lighting and most of the window treatments), added new outside cottage signs, replaced and standardized the dishware and most of the pots and pans. We also completely renovated Cottage 4 and renovated/winterized Cottage 15.
As a former Interior Decorator this has been a labour of love and loads of fun hunting for those perfect items to make each cottage feel updated, but still "cottagey", and hopefully being rugged enough for guests to use (but not abuse) 😊.
Since many people don't see the insides of every cottage, In no particular order, I thought I would share with you a few of my favourite things…
How fun is this? Who doesn't want to play a few games when in the restroom?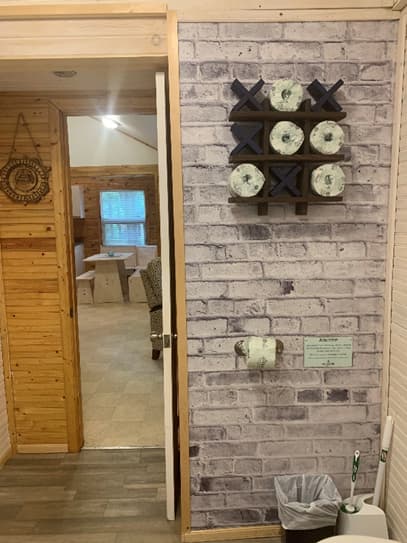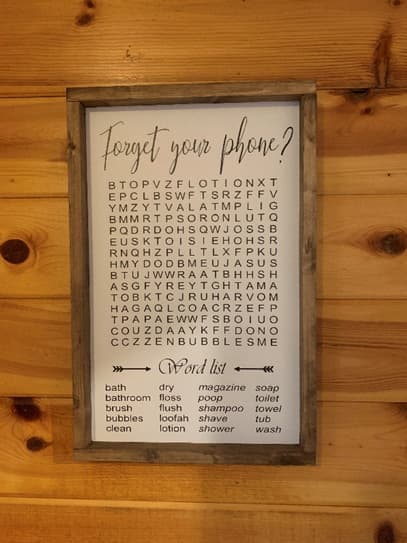 The details on this vanity are unmatched!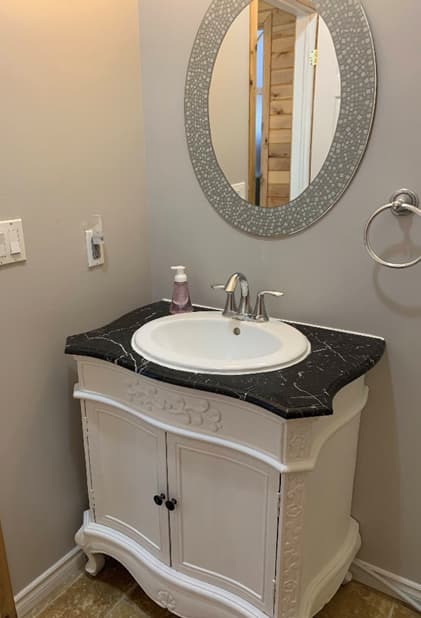 Love these refreshed mid century modern dressers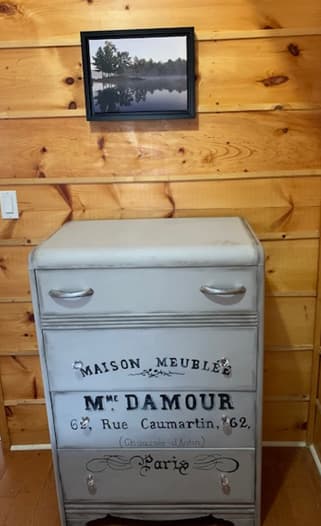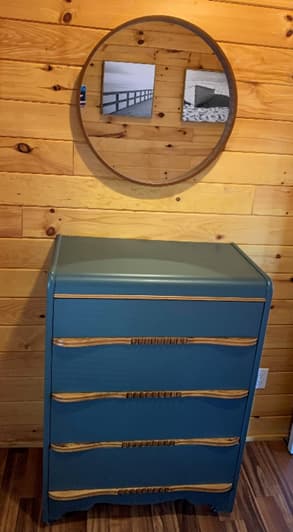 The seasonal tree art pairs beautifully with the other nature inspired pieces in this cottage, including the stone fabric recliner chair and antique saw tree art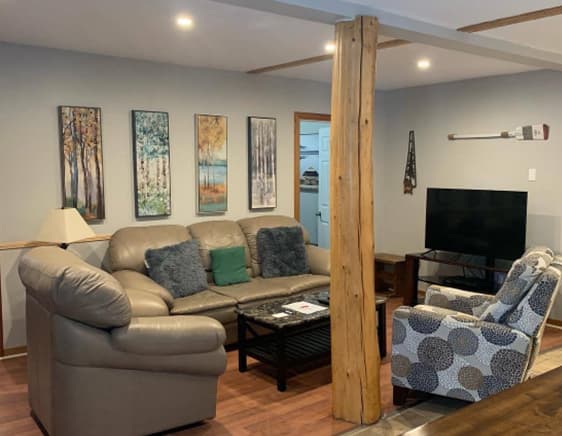 This copper décor was my mom's and has been packed away for nearly 40 years – it was waiting for the perfect home, which has now been found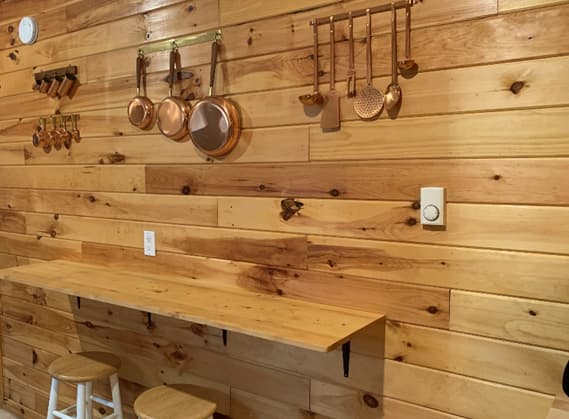 These two chairs are not only beautiful but also very comfortable. The cool blues and greens in these chairs balance out the warm wood tones in the pine walls and flooring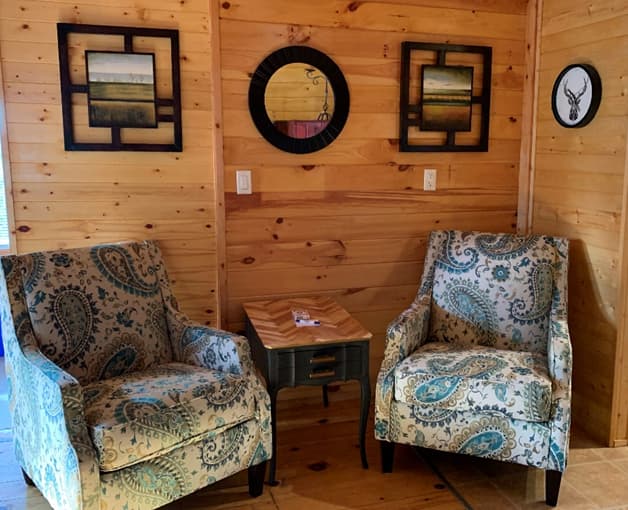 We've had a bit of fun with a sunflower theme in this cottage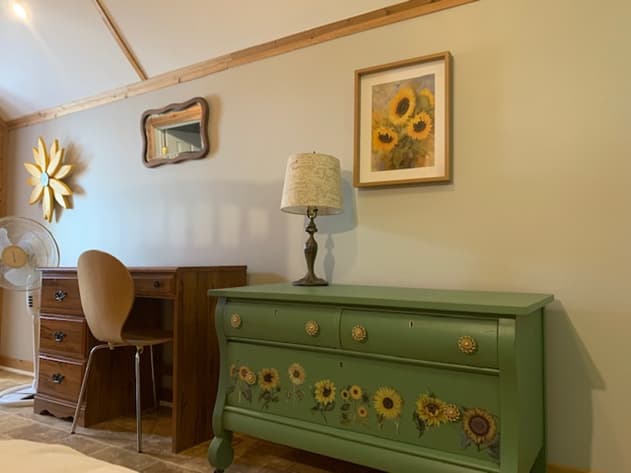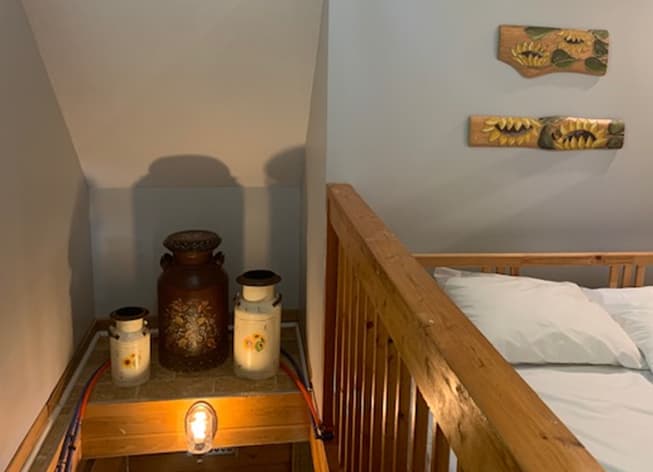 A heart shaped mirror gives little romantic whimsy to this bedroom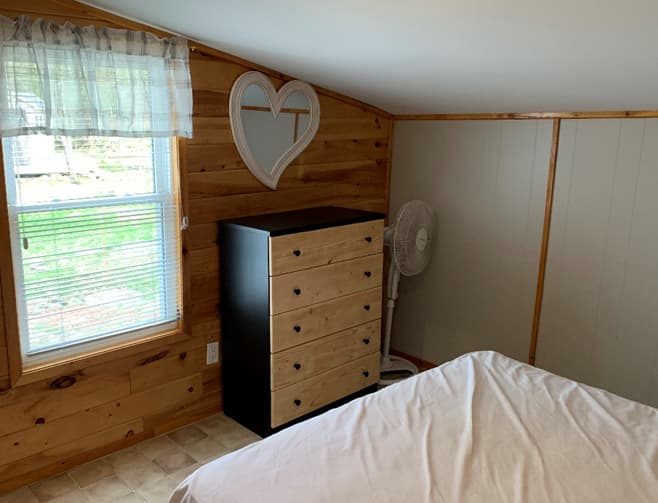 These sage green, buffalo plaid curtains have a rustic, contemporary feel that work effortlessly with the log walls in this cottage, not to mention this gorgeous pine chest coffee table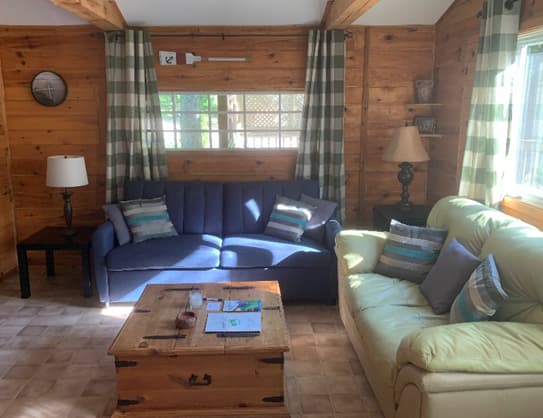 Slanted ceilings can be challenging, but this handmade mason jar chandelier looks like it was made for this space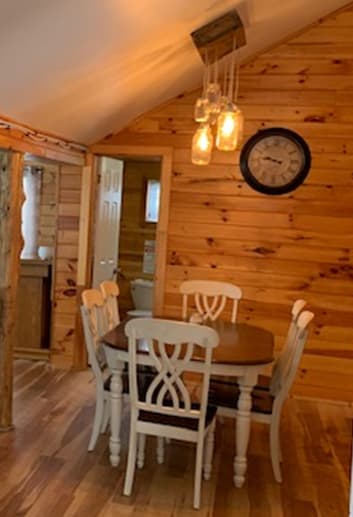 These dishes are perfect – a serene neutral colour palette, a deep bowl for soup and cereal, a large mug for dockside coffees, glassware with divots for a good grip and cookware with good heat conduct, decent weight and great stay cool handles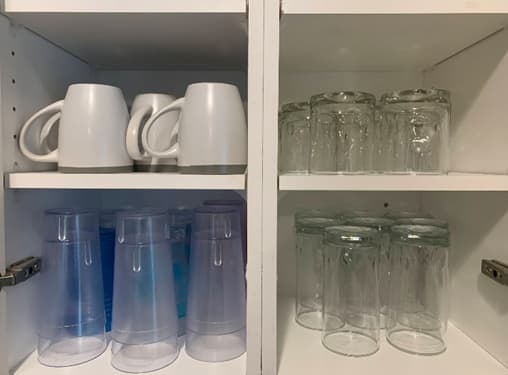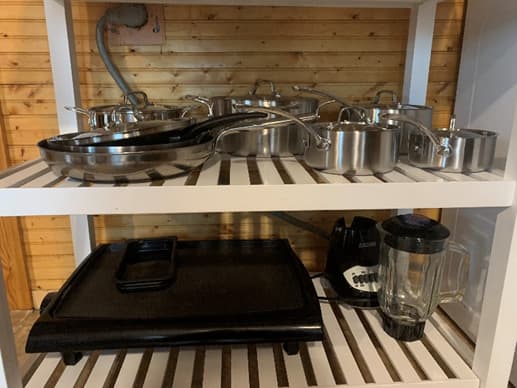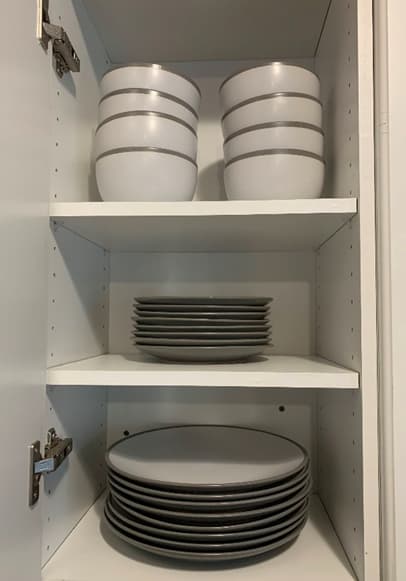 Scale, colour, style and form all go into helping select art pieces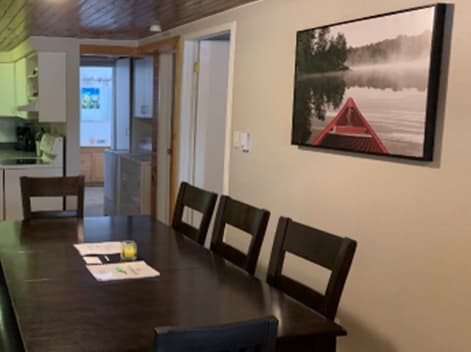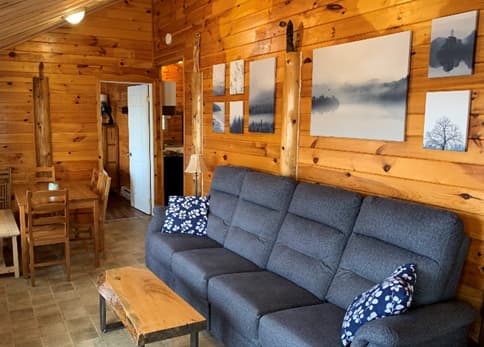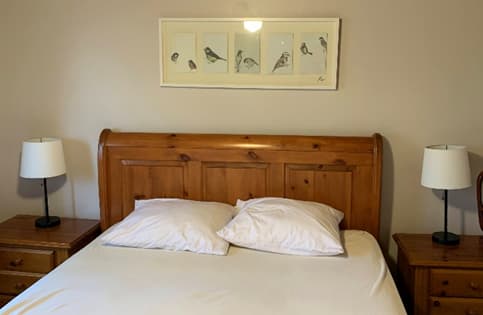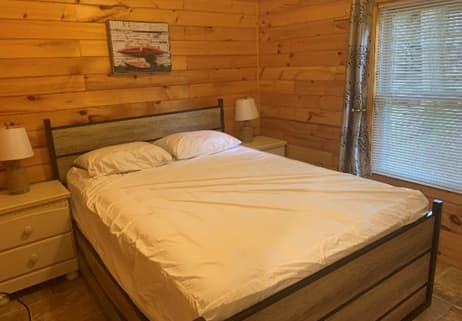 This fireplace will be a welcome addition to this newly winterized cottage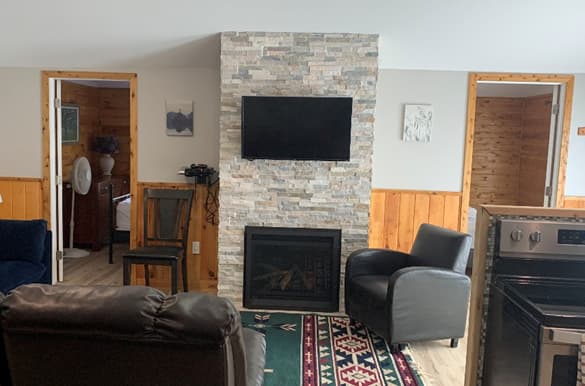 These signs are a super cute way to identify each cottage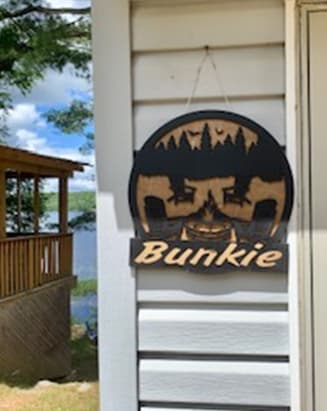 These outdoor pieces coordinate in colour, and are both attractive and durable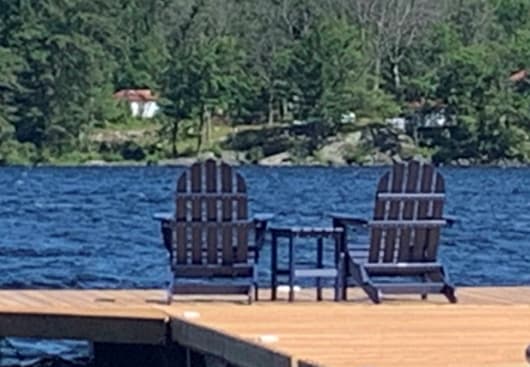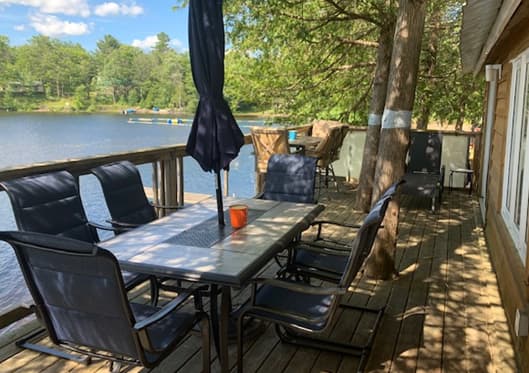 Even the games at the resort were given careful consideration – our multigame table has coordinating stools, signage and a rustic base, while the foosball table is rated for indoor and outdoor usage so we can put it on our leisure deck in the summer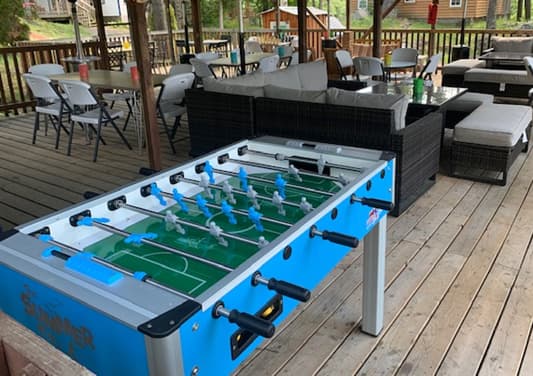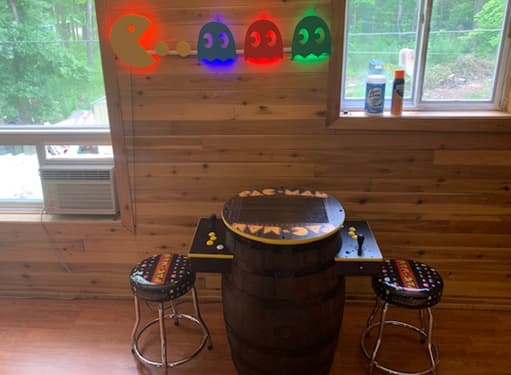 I hope you've enjoyed the little glimpse into "some of my favourite things" and that they give our guests some joy – just as they have given me during the hunt.