Summer Wrap-Up
Well, we survived our first summer peak season and are now in the last throws of fall […]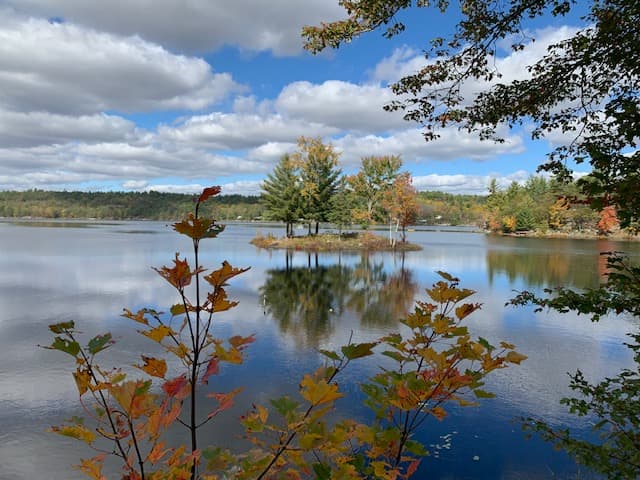 Well, we survived our first summer peak season and are now in the last throws of fall before our resort and the surrounding area is painted white with snow. So far things have been going quite well and over the summer we managed to learn lots, get organized, hired a fabulous team and in general developed a decent weekly groove as the season progressed.
We welcomed many new guests that had never been to the area or to Springwood and hosted several of Springwood's regular guests, many of whom have been coming here for several years – including a few who have been to the area year over year since the 1960s.  Hearing some of the tales of this place and the transformations it has taken over the years has been purely magical.  A couple of people even told us about how in some of the cottages the walls were used as a time capsule of sorts with guests signing their names and the year they were here – it wouldn't surprise us if some of those are still existing under the drywall or pine tongue and groove.  We're hoping in time to collect some pictures of the resort throughout the years and set up a historical wall at the resort to honour its past incarnations. (If you are reading this and have some pictures to share, please contact us). 
We really appreciated the warm welcome and feedback we received from both the community and new and old guests alike. It seems that the scooped ice cream, new beds, outdoor games and our "share shed" have been a big hit.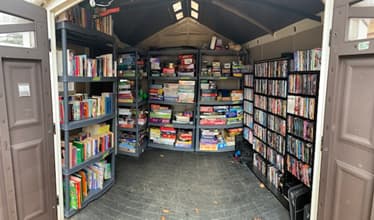 We're now getting ready for the winter season. A property this size takes a ton of effort to prepare for the winter, but with the help of our terrific team we are getting through it, and we believe that next year will go even smoother as we continually learn and become more efficient.
As we set our sights on the months ahead, we've started enacting a few of our plans. First, we have refreshed the inside of Cottage 4 – we laid a new floor, put in a new kitchen and some new bathroom fixtures – still waiting on the new appliances, which of course are delayed due to COVID (no surprize there). We're hoping to tackle more cottages this winter in the same manner.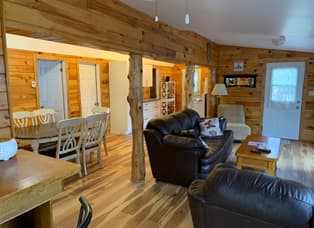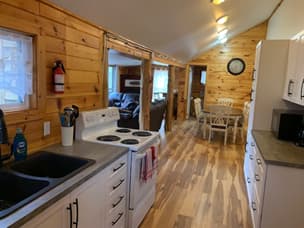 We've also been focussed on trying to ensure that guests who visit Springwood in the prime winter season can continue to enjoy a similarly extensive offering as they would in the summer months. To that end, we've been setting up an indoor games room, with a multi-game arcade table, a pool table, an electronic darts game, a shuffleboard table, a basketball arcade game and a foosball table, which we hope to have fully open for guests to use by Christmas (access will be subject to any covid restrictions, including indoor mask and proof of vaccine coverage mandates etc.)
This winter we'll also have 2 ice fishing huts available for rent on our lake for guests (a 2-person and a 4-person). We have secured a number of snowshoes that are ready for guests to borrow to explore the nearby Kennebec trails and we intend on maintaining an ice rink in front of the marina on the lake, which should be lots of fun, weather permitting.
But what we're most excited about is that we have been hard at work planning and preparing a Crokicurl rink, which we will be setting up by the Log Cabin at our Marina. For those of you who don't know what Crokicurl is, its basically a 50' crokinole "board" set up on ice ala curling fashion (if Curling and Crokinole had a baby this is what they would have). You can learn all about it here: https://www.cbc.ca/kidscbc2/the-feed/canada-invents-a-new-game-introducing-crokicurl. This will be brand new for Arden and we hope folks will come check it out.
We've added an extra large, top-of-the-line, Traeger Smoker to our BBQ/Leisure deck, so that guests can "up their BBQ culinary game", this will be available to book for a small fee upon check-in on a first come first serve basis.
Lastly, we have gone through a rebalancing of the rates and posted our new 2022 pricing, which factors in permanent hot tubs at some of the cottages, rather than adding rental fees for them and moving them around from unit to unit. As part of the rebalancing, we have reduced some of our nightly rates for shorter stays in the non-summer season, to make weekend getaways at Springwood Cottage Resort more feasible for many.
Want to close this by thanking all of the guests who have stayed with us since the beginning of March, it's been wonderful getting to know you and your support has been greatly appreciated. In particular, we wish to thank those of you who have already rebooked for 2022, we're looking forward to seeing you again. While many of our cottages are fully booked in July and the first half of August 2022, we still have lots of availability in the early summer (May/June) and from August 20, 2022 onwards and a small smattering of cottages in some of the other weeks in July and August. If you or someone you know is considering a family getaway next year, please contact us.